Gamebryo to open Japanese website www.gamebryo.com/jp


Seoul, S.Korea. (January 21st, 2015) – Gamebase Ltd., a domestic industry-leading 3D game engine developer, announced that it opened a Japanese official website of Gamebryo(http://www.gamebryo.com/jp).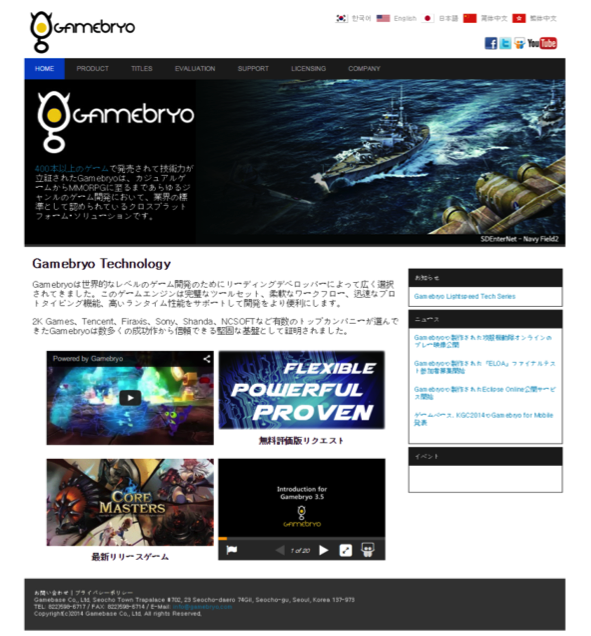 The design of Japanese official website is almost identical with Korean, English, China website, and it provides development status information of Gamebryo, current issues. In addition, official website will offers Gamebryo free evaluation kit application, like other existing Gamebryo sites. This is great news for Japanese customers who have waited a long while for the Gamebryo information so far.
Yung Shin, CEO, said "We can be more closer to the Japanese customers as we operate Japanese official website. Along with release plan of "Gamebryo for Mobile" in the first half of the year, we will certainly make continuous effort ahead to communicate, and approach Japanese market through this website."
Since its launch from 2005, Gamebryo's technologies have been widely selected for 450 leading companies in the world. And these days, Gamebryo is recognized globally as a high quality and efficient development platform for numerous successful games such as Bully: Scholarship Edition, Epic Mickey and Rocksmith. Gamebryo currently supports PC, Console, and the mobile version will be launched in the first half of the year.
About Gamebase Co. Ltd.
Established in 2003, Gamebase Co. Ltd. had introduced 3D game engine, Gamebryo, and has been provided it for the major game company in Korea. Currently, domestic 150 companies are using Gamebryo.
Gamebase Co. Ltd. acquired all intellectual property and overall property of Emergent Game Technologies in U.S.A and now it is formally owned by Gamebase Co. Ltd.
Since its establishment in 2003, Gamebase Co. Ltd. have been continuously developed and provided technology and it allows user to develop best game, in addition, we will always struggle to create game engine for console and mobile as well as PC.

Media Contact:
info@gamebryo.com